<-- Part 1 ... Part 2, Bars 11-20 ... Part 3 -->
Part 2 - Centerville, IA to Ottumwa, IA
Friday, June 15, 2007
At this point our beers were small enough and the bars far enough apart that we had so far failed to even get a slight buzz. But as we approach the mother lode, this would soon begin to change...
---
Centerville, IA (continued)
Our next stop was unexpected, the bartender at Gordie's told us about it. Located on a side street near Ben Franklin on the west side of the square...
3:50pm
#11 The Alibi [map]
B: Bud Lite 10oz draw - $1.50
S: Bud Lite 10oz draw - $1.50
Other than the photo, my notes, and my memory, I can't find any hard evidence that this place exists. It may have opened recently.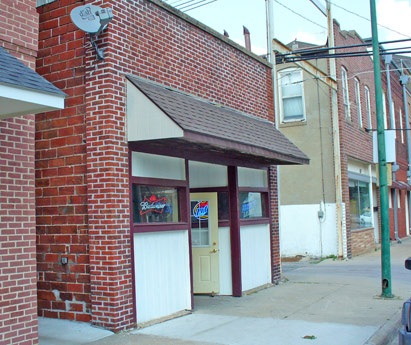 ---
Moravia, IA
This town was about a mile or so off the highway. As small as it was, we were surprised to find that even it too had a square.
4:20pm
#12 Fat Annie's [map]
B: Bud Lite 10oz draw - $1
S: Bud Lite 10oz draw - $1
Either Annie wasn't working today or she's lost a lot of weight. The thing that most caught our attention was the nude paintings on the wall. There were four, all of the same woman. One thing that was odd was that two of them were identical.

Both when we arrived and again when we left, a young girl opened the door of the laundry next door and stared at us.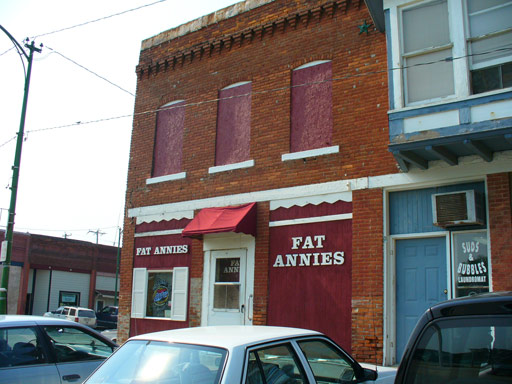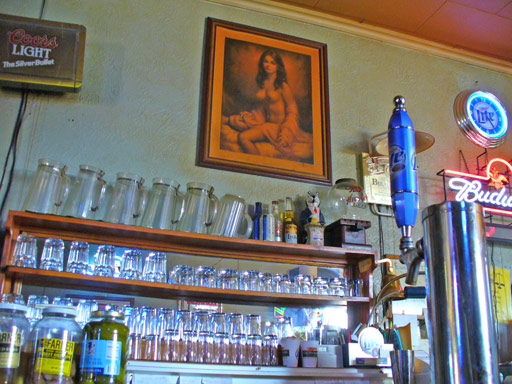 ---
Albia, IA
Our next town would add three to our list. A slight buzz ould soon be upon us!
5:00pm
#13 Murph's Sports Bar [map]
B: Bud Lite 8oz draw - $1
S: Bud Lite 8oz draw - $1
I forgot to take the camera inside at this place. :(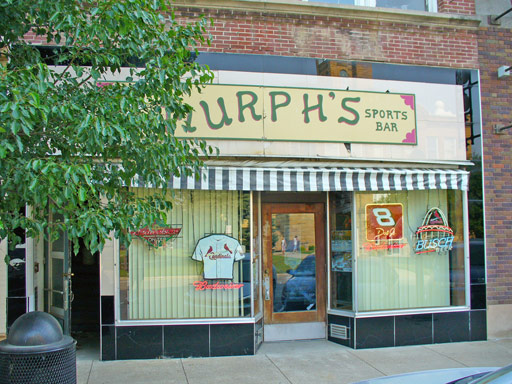 5:13pm
#14 Tennessee Owl Tap [map]
B: Bud Lite 6oz draw - $1
S: Bud Lite 6oz draw - $1
We asked for the smallest draws available, and got the smallest draws we've ever had! They were almost embarassing.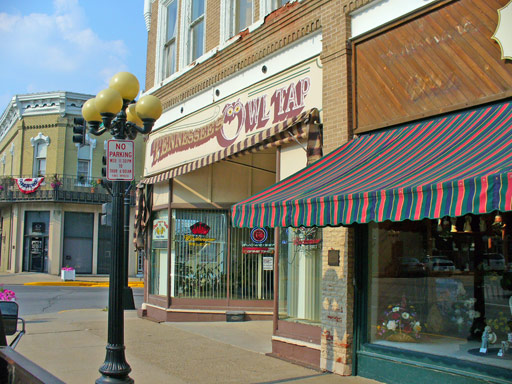 This guy caught me taking this picture, so B went over to him and explained what we were doing to make sure he was cool with it.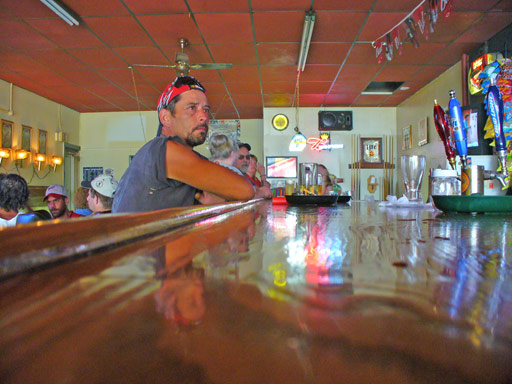 5:21pm
#15 Brick Street Pub [map]
B: Bud Lite 10oz draw - $0.75
S: Bud Lite 10oz draw - $0.75
(Our tips were more than the cost of the beer!)
This place was built in 1904, and has always operated as a bar for all 103 years of its life.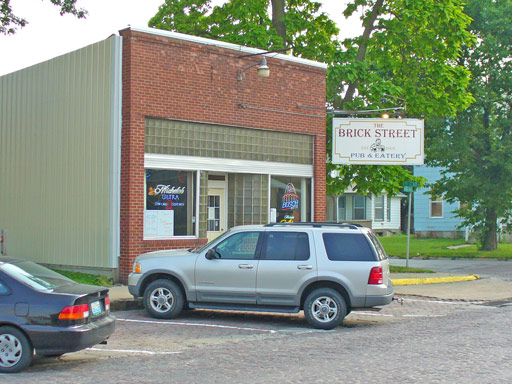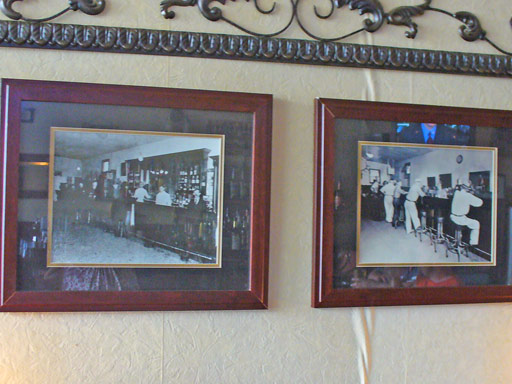 5:40pm
#16 American Legion #136 [map]
B: Bud Lite 10oz draw - $1
S: Bud Lite 10oz draw - $1
We chatted with a guy named Bob who used to own a hardware store and would come to KC (technically to Overland Park, it was the Kansas City Merchandise Mart) for trade shows. On our way out B bought him a beer.

By the way, this American Legion has the distinction of being the most brightly-lit bar we have ever been in. Oddly, the darkest bar we have ever been in also was an American Legion.
---
Ottumwa, IA
Ottumwa would later be our final destination of the night, but for now we're just passing through.
6:20pm
#17 Alpine Motor Inn [map]
B: Busch Light 10oz draw - $1
S: Busch Light 10oz draw - $1
We circled around this place twice trying to determine if it was actually a bar or not. Finally we went inside and discovered it's all bar. Apparently it's popular among crotch rocket fanatics based upon a sign posted on the door. B bought a beer for an old man next to us that we were chatting with.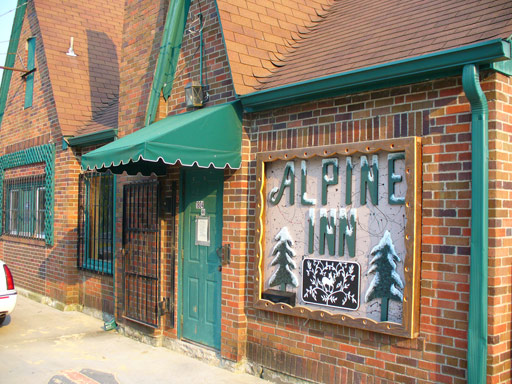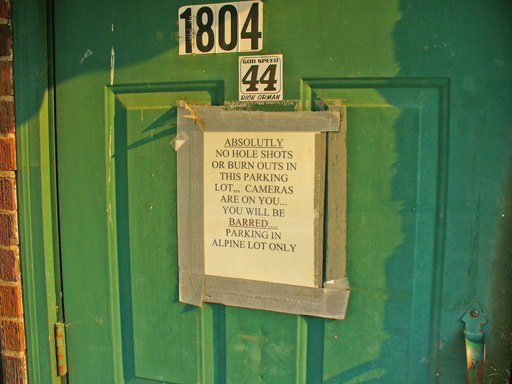 Shortly after we left here, at 6:43pm, we saw the first police officer that we had seen all day. He was heading, I kid you not, towards a donut shop.
Our intention was to pass through Ottumwa for now because we had some business to attend to in Fairfield, two towns further down the highway. But as we reached the eastern edge of Ottumwa we were stopped in our tracks by barricades across the highway -- closed for construction. Luckily there was someplace right next to the barricades where we could ask for directions. :)
6:58pm
#18 The Primavera Club [map]
B: Bud Lite bottle - $1
S: Miller Light bottle - $1
Formerly Harley's, this place had just recently been bought by a nice Mexican family and re-opened as the Primavera Club. Our bartender, Lorena, was a former nurse who told us about heer life's travels. Her friends at a nearby table helped us out with directions around the construction zone so that we could get to Fairfield.
---
Fairfield, IA

On the way into town we spotted the most beat-up old Lexus I've ever seen...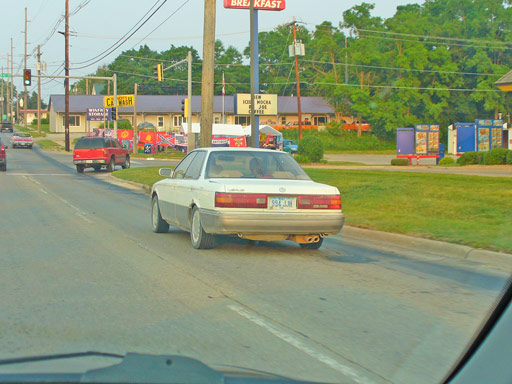 For years I have known of the statue of a distance ancestor in the town square at Fairfield but never had an opportunity to see it until now...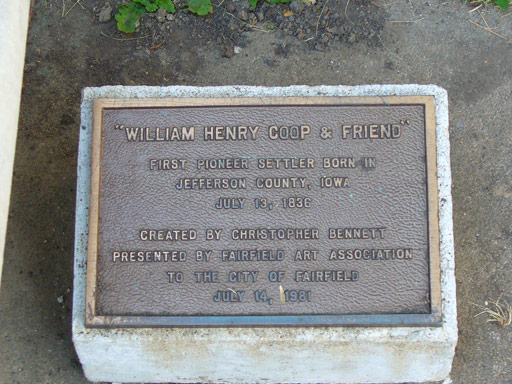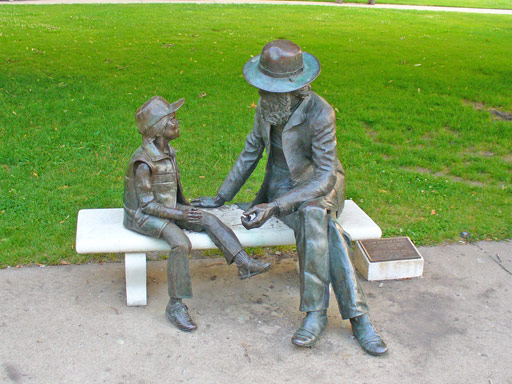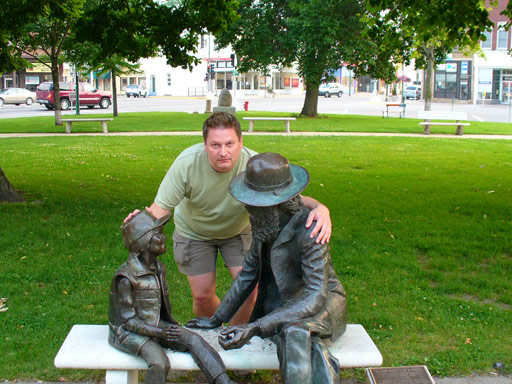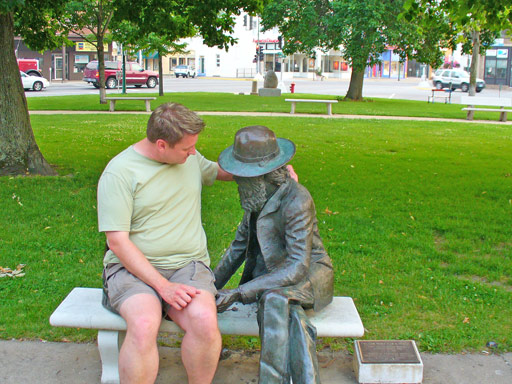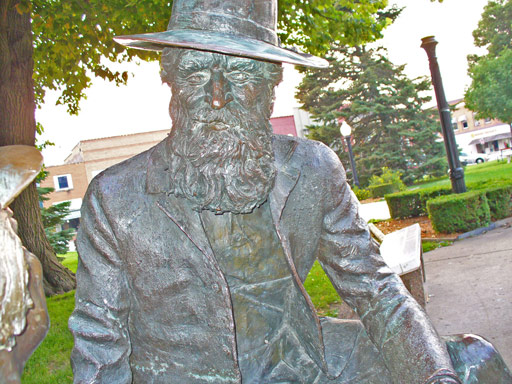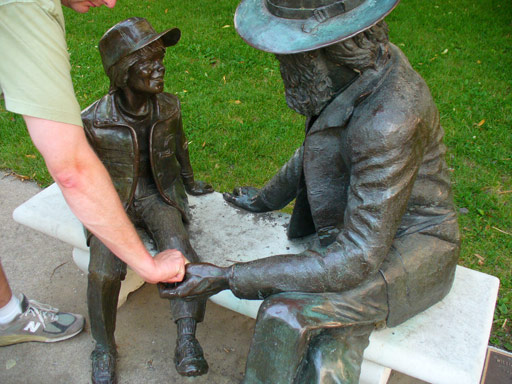 To celebrate my visit as well as something else worth celebrating, I wanted to find someplace appropriate. We checked out the square and found a few places, then checked the perimeter of the square and found the perfect setting...

7:45pm
#19 VFW #2271 [map]
B: Miller Light 12oz - $1.25
S: Miller Light 12oz - $1.25
There were about a dozen people inside this VFW. B got their attention, I announced the reason for my visit to the statue, then announced one other thing that I was also celebrating:



This is the 300th bar I've been to in my life!



I then bought the entire house a round and we had a good time with everyone there before it was time to move on.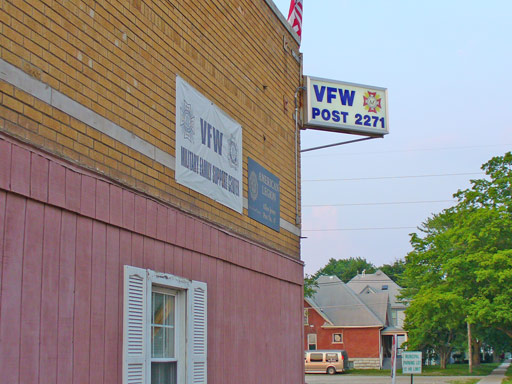 8:15pm
#20 George's Pizza & Steak [map]
B: Coors Light bottle
S: Coors Light bottle
Now, my notes call this place "Taso's Pizza & Pub", but my photo is of "George's Pizza & Steak". George's is in the right location, and I can't find any listing for a place called Taso's. So most likely I mis-read a sign inside while taking notes. Anyway, we had some coors and then decided to get a little pizza after realizing we hadn't eaten in over 12 hours. I don't know how much our beers were since the pizza got added to the same tab.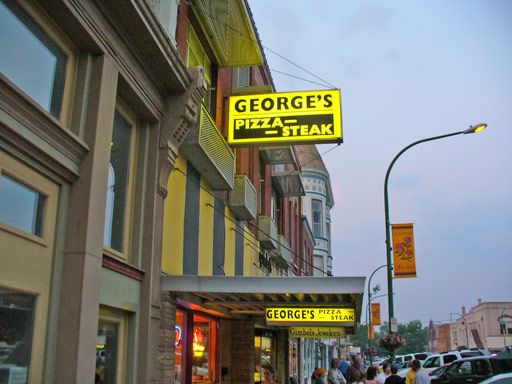 Continued... click part 3 below...



<-- Part 1 ... Part 2, Bars 11-20 ... Part 3 -->



Comments? Leave them here.

Check out my new bar blog: Scooter's Bars