<-- Main ... Part 1, Bars 1-10 ... Part 2 -->
Part 1 - Hamilton, MO to Centerville, IA
Friday, June 15, 2007
We began Friday morning with a quick breakfast in Liberty, MO, and then hit the highway about 8:00am heading north. Our first destination had a 9am opening time and it was out intention to get there as early as we could.
---
Hamilton, MO
We arrived a few minutes too early so took a quick tour of the town. By the time we looped back around our first stop was open.
9:00am
#1 Angela's Bar & Grill [map]
B: Bud Lite 10oz draw - $1
S: Bud Lite 10oz draw - $1
This was a pretty big place on the inside, occupying 2 buildings on the downtown strip. One building was set up as a dining and dancing area. Angela's had nice little personalized beer mugs.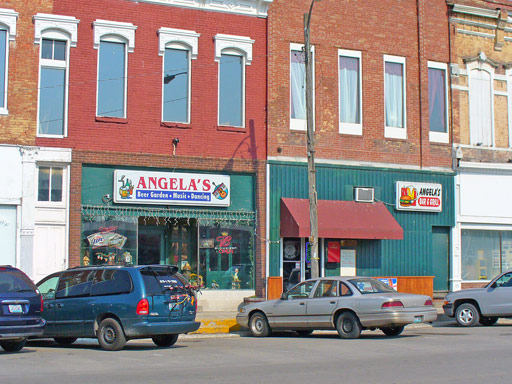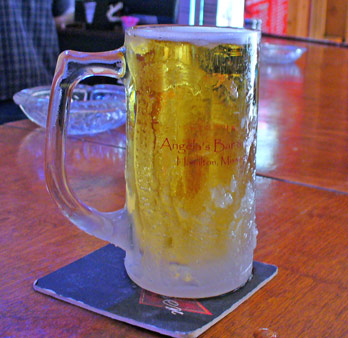 ---
Chillicothe, MO
Our next stop was hard to find. Google Maps got us close but we just didn't see it. We circled around, drove all over, and even called for directions. Finally, with great effort, we found it. It turns out it wasn't on a street at all but on an "alley" of sorts that looked like the driveway for a nearby trailer house.
10:10am
#2 The Traphouse [map]
B: Bud Lite bottle - $2
S: Miller Light Bottle - $2
The bartender was the owner's mother, who was watching the final Bob Barker episode of The Price Is Right. She told us that several bars in town have gone under due to younger people moving away but that their place was doing well due to low overhead. Behind us a wall was completely covered with photos of various parties hosted at the bar.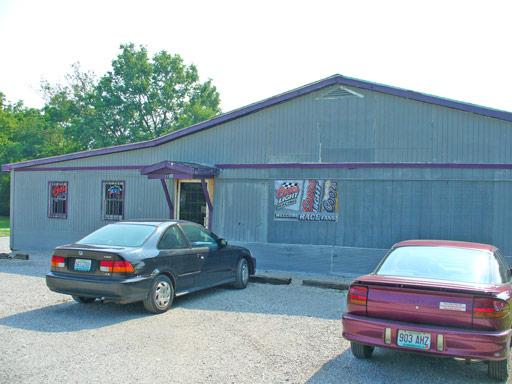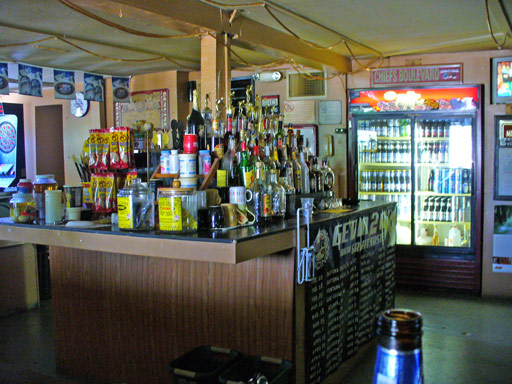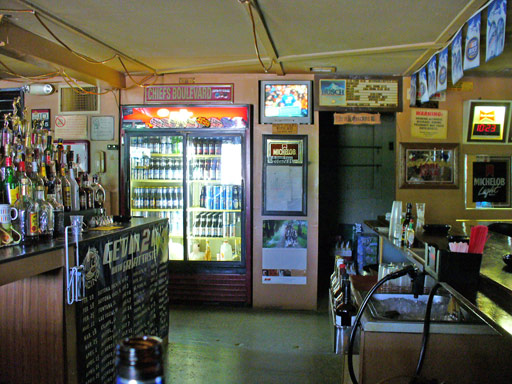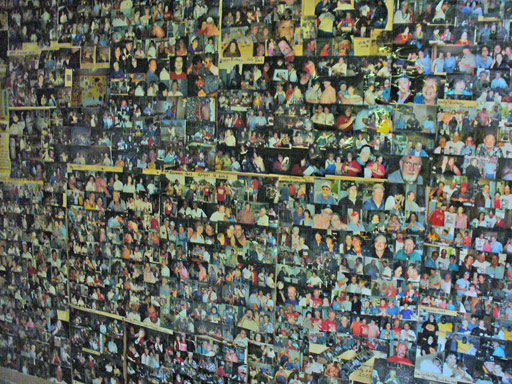 After finishing here we spent considerable time driving around Chillicothe hoping to visit at least a couple of more places. But after finding none open until at least 11:00 we decided we were wasting valuable time and continued north on Hwy 65.
---
Trenton, MO
We hit paydirt in Trenton, sort of. Two of our three planned destinations were found quickly, though a confusing street system gave us a little trouble acctually getting to them. Our third planned destination (Tropical Illusions) could not be found. I later learned this was because of (a) poor mapreading and (b) it wasn't a bar but a bar equipment supplier.
10:58am
#3 Trackside [map]
B: Coors Light 12oz draw - $1.75
S: Coors Light 12oz draw - $1.75
While B parked the car I stepped on inside, and all conversation came to a stop. With all eyes on my I slowly and nervously took a seat. After a lengthly pause I broke the uncomfortable silence and said my friend was parking the car and we'd order then. Only after he stepped in and we ordered our beer did anyone stop staring and get back to talking. I did find it odd that a bar filled with fairly tough looking men had a daytime soap opera playing on the TV.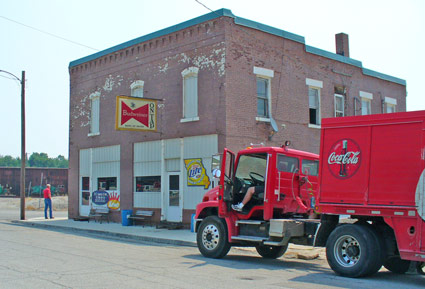 11:20am
#4 Snappy's Tavern [map]
B: Natural Light 10oz draw - $1
S: Natural Light 10oz draw - $1
When we first arrived there was no one to be found, but after a couple of minutes B did some exploration and found the bartender/owner in the poker room in the back. Named Craig, he was the first bartender we met on this trip to be internet savvy. His bar has a MySpace page, and in fact he moved to Trenton from Florida after using the internet to find this bar for sale. He whipped out a laptop and we showed him photos and blogs from our past barhopping adventures.

I forgot to grab an exterior photo but here's a shot of the main bar room. One interesting feature you can see towards the back is the women's restroom, it's an outhouse brought inside and fitted with a more modern toilet.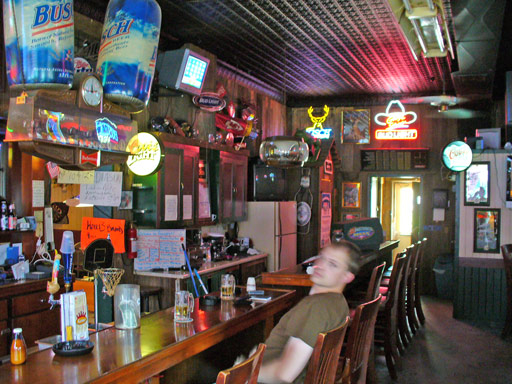 ---
Princeton, MO
This town was supposed to give us three bars, but only the one at the main highway crossroads proved to be open.
12:05pm
#5 Crossroads Bar & Grill [map]
B: Bud Lite bottle - $2
S: Bud Lite bottle - $2
This was the home of the biggest hairdos I have ever seen in person. Unfortunately I could not get a discrete opportunity to snap a photo. Also the men's restroom was located uncomfortably close to the dining area with uncomfortably thin walls.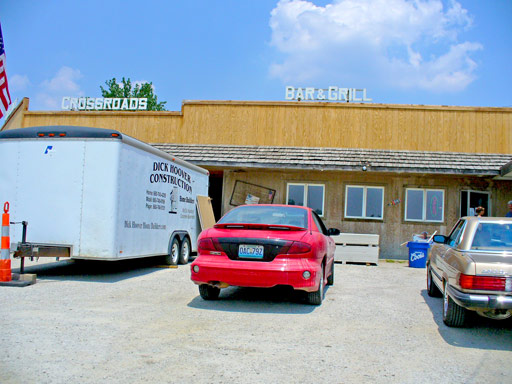 It would not be a long drive before we'd find another bar.
---
Allerton, IA
This town was a fairly significant detour off the main highways and had only one bar, so we had already called ahead to make sure they'd be open. "We'll be open at 1:00 on Saturday," they said. So you can only imagine our intense disappointment when we found the place closed. Luckily we found a nearby replacement...
1:35pm
#6 American Legion #379 [map]
B: Miller Light bottle - $2
S: Miller Light bottle - $2
This was one of the least bar-like bars we have visited... it felt like drinking at the kitchen counter in a community center. Our host was very pleasant and friendly, though, so we increased our tip a little to help her out.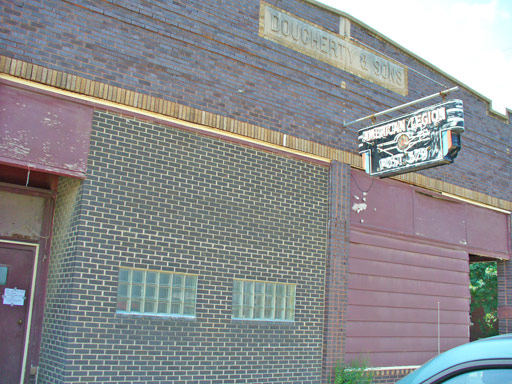 ---
Corydon, IA
One of our planned stops here didn't open until later, but the other was open and ready to serve us...
1:55pm
#7 The Fibbin' Fisherman [map]
B: Miller Light 12oz draw - $1.50
S: Miller Light 12oz draw - $1.50
I forgot to get a photo of this sign that was hanging behind the bar, I also forgot to buy one of their t-shirts.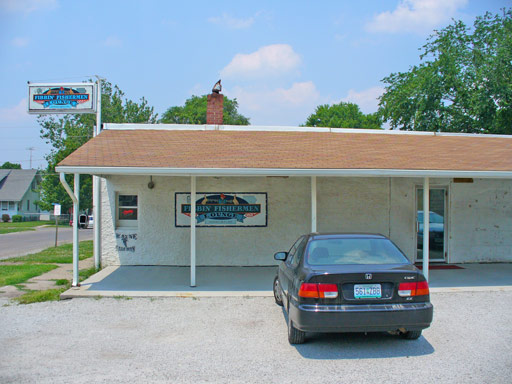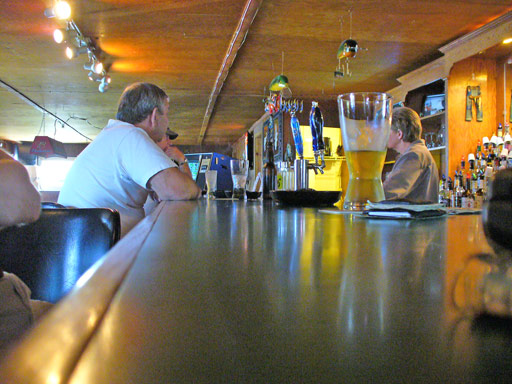 ---
Seymour, IA
Seymour was a bit of a detour and we were taking a gamble -- the info on the existence of this bar was sketchy and the phone number we found listed had been disconnected. We decided to give it a shot anyway...
2:25pm
#8 Neighborhood Tap [map]
B: Miller Light 10oz draw - $1.25
S: Miller Light 10oz draw - $1.25
This was the first of many bars we'd visit this weekend on the town squares of small towns. We love those! I forgot to get an interior photo and I'm temporarily drawing a blank on what it was like on the inside, but I do remember it being a pretty nice place for such a small town.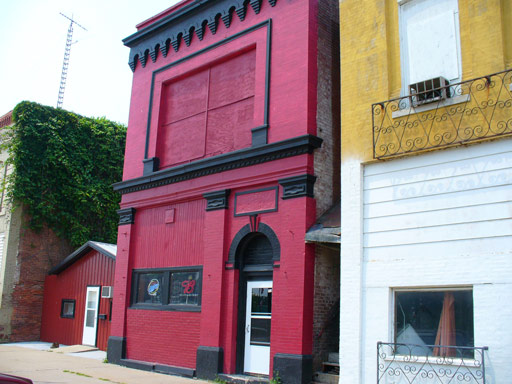 As we headed out of town we found ourselves behind what appeared to be a driverless pickup...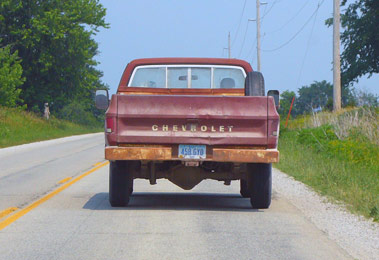 ---
Centerville, IA
Centerville claims to have the largest town square in the world. (It was huge, I'll give them that, with both an inner and outer traffic ring plus pretty tricky intersections coming in at the corners.) Because of the Seymour side trip we arrived in town from the south.
3:00pm
#9 The Silver Spur [map]
B: Bud Lite 10oz draw - $1.50
S: Bud Lite 10oz draw - $1.50
While I tried 3 times to close the men's room door before giving up and peeing with it wide open, B struck up a conversation with the bartender about her carpal tunnel braces.

When we left this was a memorable bar, but we didn't realize until several hours later how memorable it would become. The following information was given to us by some people that we would meet 10-1/2 hours later:
The Silver Spur used to be called Larry's Silver Spur. Larry was a really nice guy, but then one day his wife up and shot him in the head. She's in prison now. Then later there was a couple in there and they had an argument. The girlfriend stormed out and the boyfriend stayed inside, he was going to wait for her to cool off and knew she'd come back in. But she never did... because when she went outside she stepped onto the highway and got flattened by a semi. They got most of her for the burial but "one arm was unattainable."
I haven't been able to confirm any of this yet but it's too interesting of gossip not to pass along.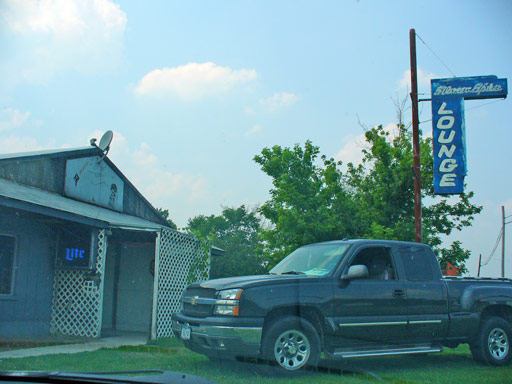 3:42pm
#10 Gordie's Bar & Grill [map]
B: Miller Light bottle - $2.25
S: Miller Light bottle - $2.25
The bartender here was who told us about this town having the largest town square. This bar was on a one-way side street coming into the square. This particular street was once called Pill Row because every building was a doctors office.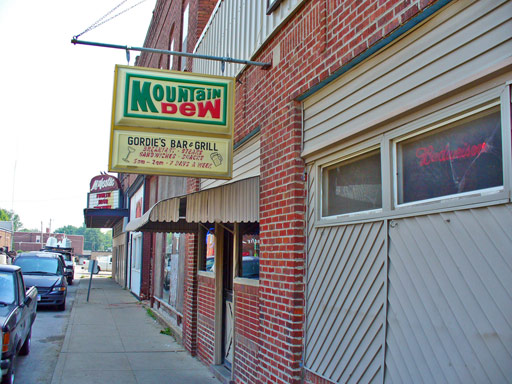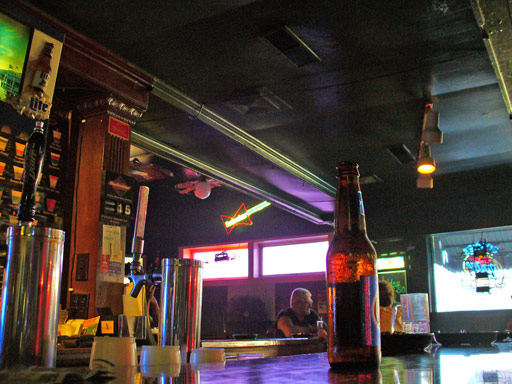 Continued... click part 2 below...



<-- Main ... Part 1, Bars 1-10 ... Part 2 -->



Comments? Leave them here.

Check out my new bar blog: Scooter's Bars