Darkness was falling, it was now time to head back to our destinatoon.
Batavia was on the way back to Ottumwa and we stopped despite the fact that it was getting late, so we were disappointed that all we could find was an American Legion with a locked door. We walked around the side of the building and saw some people standing near a truck. "Can you tell us how to get to Ned's Place?" we asked. "Through that side door right behind you," they reeplied. Whoops!
Ottumwa, IA (again)
We returned to Ottumwa and checked in at the Stardust Motel on the east end of town. We then called Ottumwa Cab and a driver arrived before we even had time to set out bags down. He drove us to the west side of town and we set off to do the remainder of the night on foot.
10:10pm
#22 Front Runners [map]
B: Old Milwaukee 12oz draw - $1.25
S: Old Milwaukee 12oz draw - $1.25
The change to Old Milwaukee was a pleasant switch that helped give us a little bit of a second wind. I think we played a little bar trivia here.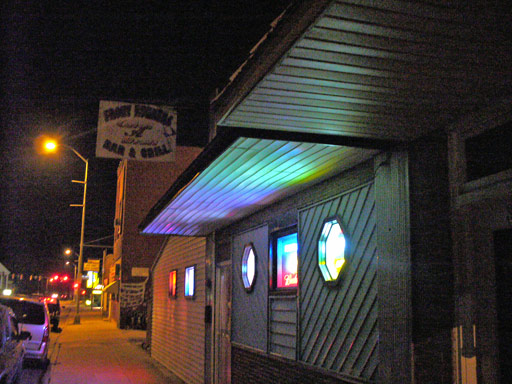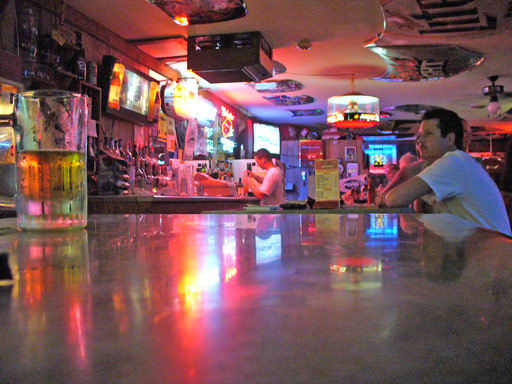 10:40pm
#23 The Keg [map]
B: Bud Lite 10oz draw - $1.25
S: Bud Lite 10oz draw - $1.25
A zig-zag across a busy street from the previous bar...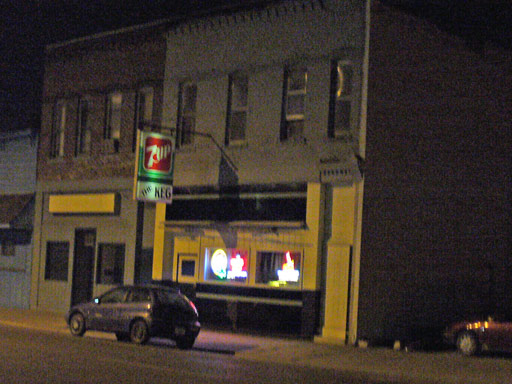 10:54pm
#24 The Dugout [map]
B: Miller Light 10oz draw - $1.50
S: Miller Light 10oz draw - $1.50
And yee another zig-zag across the street. This bar was divided into two rooms - the front main bar area and a back room. It was karaoke night, with a karaoke guy set up in the front corner of the back room. Despite the bar being crowded, most of the people were in the front room and hardly anyone was doing karaoke. I'm not surprised, though, it was unusually loud in the karaoke room.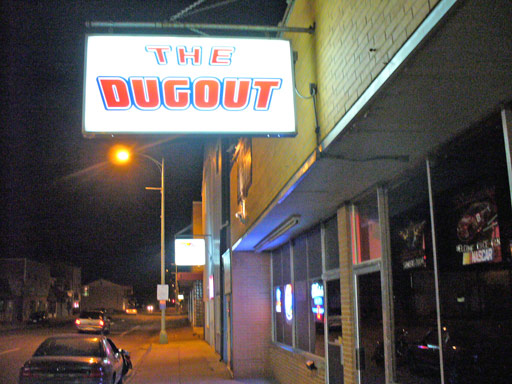 11:15pm
#25 Uncle Buck's [map]
B: Bud Lite 16oz draw - $2
S: Bud Lite 16oz draw - $2
And, again, another zig-zag across the street. This place was also having karaoke, but here it was proving popular with singer after singer after singer. The setup was in the front room by the window which had to help. Upon our arrival B noticced a distinctive-looking fella and immediately nicknamed him "Blonde Jesus". Beefore we left, Blonde Jesus got up and sang "Sweet Home Alabama".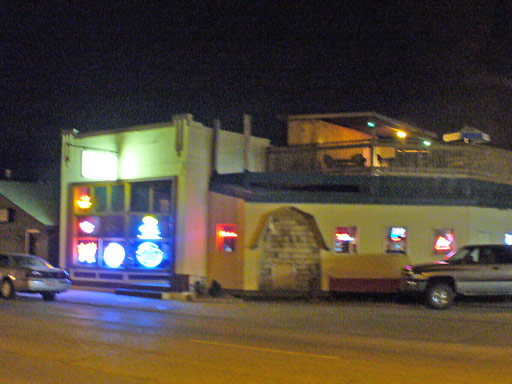 After we left here we saw some neon lights to the south and decided to go check them out. We knew there were some bars in that general direction that we had earlier decided to skip due to time constraints. As we cut across a gravel lot a large dog started barking furiously at us, but a nearby voice quickly told it to shut up. We got close enough to our neon to determine that it was not a bar after all and decided to return back to our original course. We cut across a park and then through a bank parking lot. B suddenly had to seek bladder relief so went to the bank alley. I reminded him that banks have cameras, so he smiled and waved as he whizzed. With B's load lightened, we began our crossing of the Des Moines River (and encountered a few fishermen along the way)...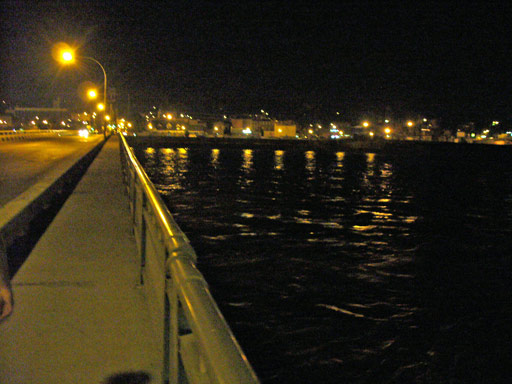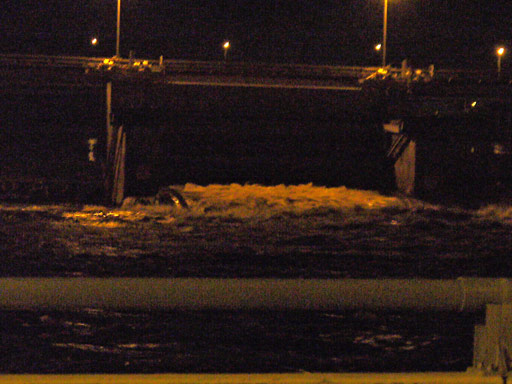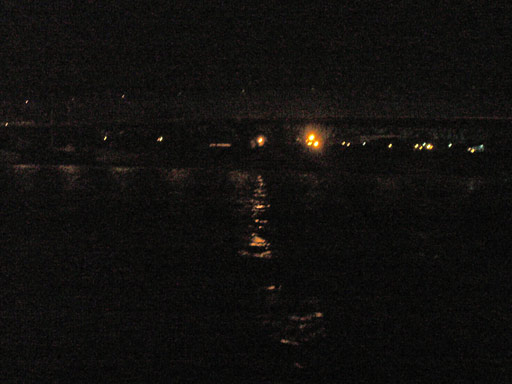 Once we were on the other side, we cut left a block to hit up a few bars in that direction before heading back towards our motel.

11:55pm
#26 Owl's Nest [map]
B: Bud Lite 10oz draw - $1.25
S: Bud Lite 10oz draw - $1.25
We were now both feeling it. Not drunk... full. Stomach volume was proving to be a major challenge that looked likeely to keep us from reaching our goal.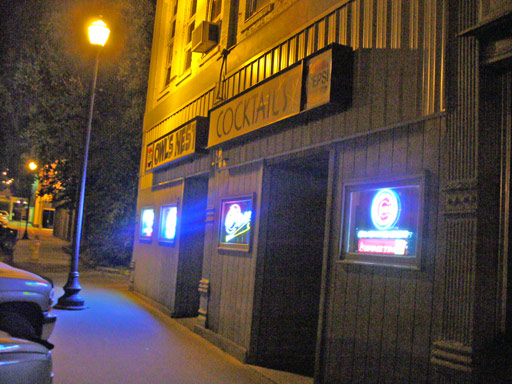 12:15am
#27 Tom Tom Tap [map]
B: Bud Lite 16oz draw - $2
S: Bud Lite 16oz draw - $2
The bar at the Hotel Ottumwa. Our stomachs were so full that these beers were now massive. B had to step outside thinking he would be sick, and I did not think I was far behind. We nursed these beers, trying all we could to get them down.

Finally we were forcced to invoke our rarely-used Emergency Stomach Volume Relief Rule. This rule allows us to bypass one large draw by drinking the same amount from the glass as the size of the smallest draw beer we had been allowed to purchase all day. (This rule was last invoked on Cinco de Mayo at Big Nose Kate's in Salina, KS.) Since the smallest draw we were served today was 8oz, that meant we had to drink half. I drank 2/3 for good measure. This rule is truly reserved for emergency use only since its use creates an automatic violation of the sacred "No Beer Left Behind" rule.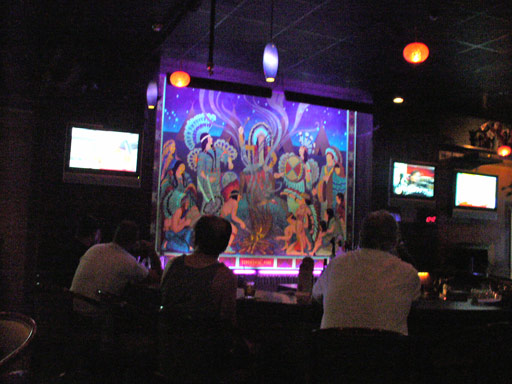 12:33am
#28 Scooters [map]
B: Tall Kamikaze - $3.50
S: Tall Kamikaze - $3.50
We entered through the back door and discovered that this was a dance club. A bouncer stopped us and told us there was a $2 cover. We don't pay cover charges so we turned around and left -- it's just not not right to have to pay in order to be able to buy a drink. We went around the block and found another place. We went inside, another dance club. The bouncer stopped us, but this one said "You guys were here earlier, right?" About then we realized that we were at the same place we had just left the other end of, so technically it wasn't a lie to say "Yes." :) The bouncer waved us on in.

With our stomachs still suffering from a volume issue I decided to order us kamikaze shots instead of beer. But the bartender misunderstood and made us tall kamikazes instead. Still, this was much less liquid than a pint of beer.

When we arrived a man to B's right began staring very affectionately at him, making B somewhat uncomfortable. The guy then started making some suggestive remarks. Just as the bartender handed me the drinks, B grabbed me and made me trade places with him, spilling some of my drink onto my shirt. The guy that was bugging B took my hand then told me he was going to have my friend "maybe not tonight, perhaps not tomorrow, but soon." We slammed our drinks and got the hell out of there.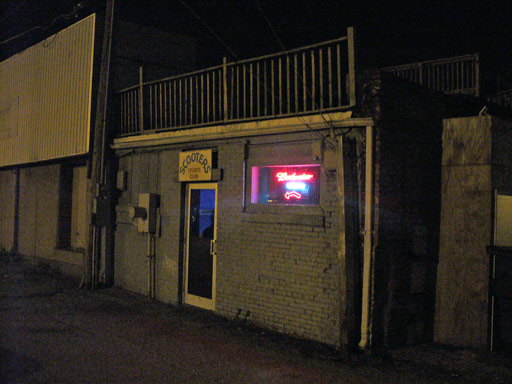 12:45am
#29 The Salty Frog [map]
B: Bud Lite 8oz draw - $1.25
S: Bud Lite 8oz draw - $1.25
Right across the street from Scooters, this place had only been open for a couple of weeks tops.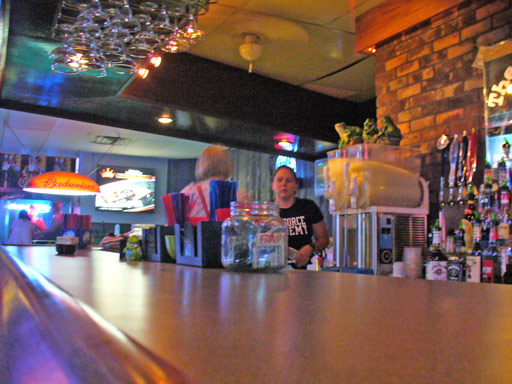 We now had a walk of several blocks ahead of us before our next bar. As we walked across town we mocked a story we'd heard before coming here that this town was dangerous and that we were liable to be knifed. At one point on the walk I think B scared some poor girl who was entering her apartment building when he jokingly asked her "Hey, is that a bar?"

Some of the places we had seen open earlier in the night were now closed, getting us a little worried. But then we found an open bar...
1:18am
#30 Cocanana's [map]
B: Bud Lite 10oz draw - $1
S: Bud Lite 10oz draw - $1
We got our beers and I began looking through my notebook to see how we had done. I did a double-take and rechecked my figures. Unbelievably, we had pulled it off! We high-fived and clinked our glasses, and a guy standing at the end of the bar asked what wwe wwere celebrating. "We've been to 30 bars!" B said. "This is your 30th ever?" the guy asked. "No," B replied, "our 30th tonight!"

"Oh my God," gasped the bartender, "Please tell me you're not driving."

"Nope, we're on foot," I said as she toweled up the beer we spilled when clinking our mugs.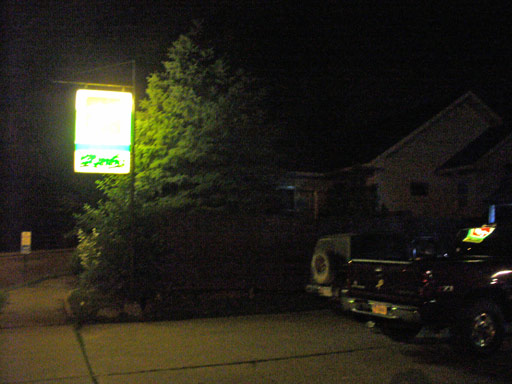 After our beer was finished we stepped outside to take a celebratory photo. But nothing would come out right. Here's a couple of examples: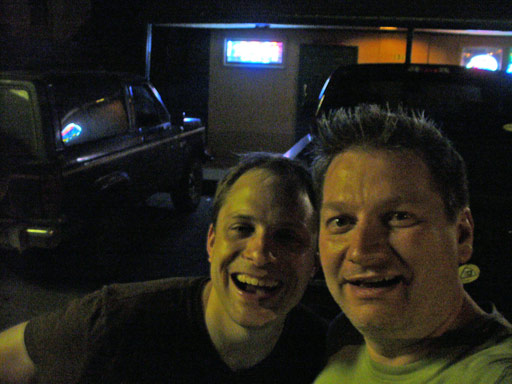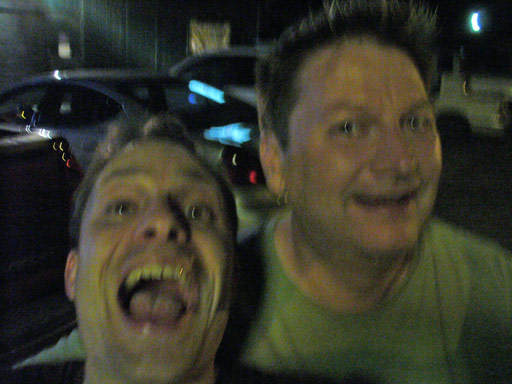 So we went back inside and asked a woman at the bar for some help. But she musn't have been much better off than we were, because her work included such photos as this one: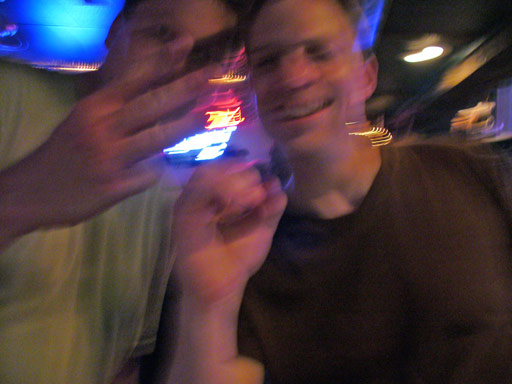 On the way back outside B asked a young woman sitting near the door to take our picture. She did a much better job: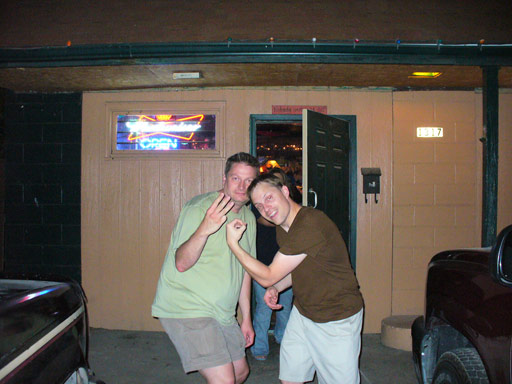 The group consisted of the gal, her mom, and a guy who I think was the mom's boyfriend but I'm not sure. He showed off his Hamm's shirt and then we all stood outside talking for about 10-15 minutes about our adventure. These were the people who filled us in with the gossip about The Silver Spur. Really cool people, we had a great time chatting with them.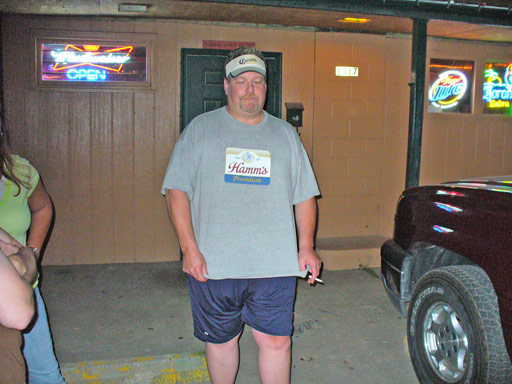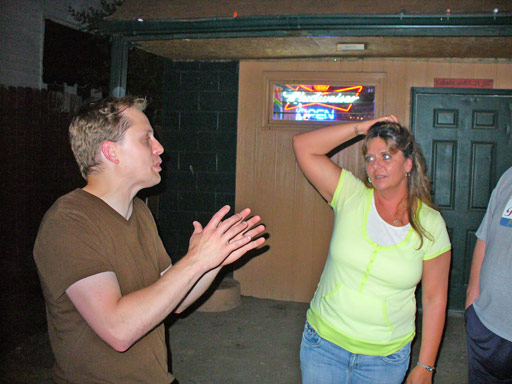 We continued on down the sidewalk towards our motel. We had hoped to stop at the East End Tavern but found it closed. Soon our new friends passed by in their SUV, saw us walking, and gave us a ride to the motel. (If you're reading this, thanks again!!!)

Upon arrival at our motel we proceeded immediately to Coach's Corner, the bar in our motel's parking lot. But it was now 1:45 and last call had already happened, so we were refused service.

Oh well, we'll just have to shoot for 31 bars in a day some other time. :)



(Look for Day 2 of this weekend's adventure, "Drinking Nemo", in the next few days...)



<-- Part 2 ... Part 3, Bars 21-30 ... Main -->



Comments? Leave them